At Samson International, only the very best will do. That's why we begin the manufacturing process by selecting materials of the utmost quality.
Prior to processing, components are presorted and re-graded to ensure that they meet our rigorous standards. Maintaining proper moisture content is key to producing consistently high-quality goods.  Therefore we maintain strict moisture control throughout all of our facilities. And, if necessary we re-dry before processing. Our wood is continuously conditioned as it travels through the production process.  In addition, automated laser cutters precisely measure each piece and remove any defects, guaranteeing the very finest in fit and finish.
In short, we're fanatics about getting it right from the start. We won't cut corners and we will never compromise our quality by using anything less than the very best.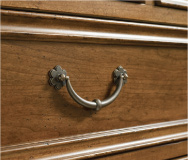 Wood on wood drawer construction
Our drawer sides are made from unidirectional plywood and joined with English and French dovetails on the drawer sides and backs. Utilizing an efficient and environmentally friendly ultraviolet light system, we finish each drawer interior with a scratch resistant material that will maintain its beauty through many years of use.
In select designs, we add a cedar lining to the drawer bottom. Cedar is decay and insect resistant and it also offers a pleasing natural aroma that many customers desire. Our cedar linings are left unfinished to allow the natural aroma to be released.
All drawer bottoms are secured to the sides with corner blocking and glue. As is appropriate to particular designs, we will incorporate either dovetailed wood-on-wood drawer glides that are waxed on both the male and female sides, or full extension ball bearing glides which allow for full drawer access.
Case Construction
All cases are crafted from a combination of engineered and solid wood materials. Our "face frame" construction uses a built-up frame on the front and the back of the case, which is secured to the end panels, tops and bottoms via the face frame. All pieces are screwed and glued together. A parting rail and dust partition separates each drawer compartment.
Tops are typically 3-ply or 5-ply constructions with solid wood edges. All back panels are either fully finished or pre-stained black. They are positioned via a dado groove in the back frame of the case and then screwed into place. Case bottoms are also pre-stained black, using a finish that is an anti-fungal agent. When possible, our cases are equipped with levelers. We use only solid hardware, no cored-out or hollow pieces.
Headboards and footboards of our beds are finished on the back and we pre-stain the interior side rails and slats. Slats can be easily secured to the side rails via notches in the side rail cleats, ensuring proper placement and allowing the bed to be locked together with supplied screws.
Dining Tables
All tables are built of either 3-ply or 5-ply construction with solid wood edges. Table undersides are pre-stained black; aprons are sanded smooth and always properly stained.